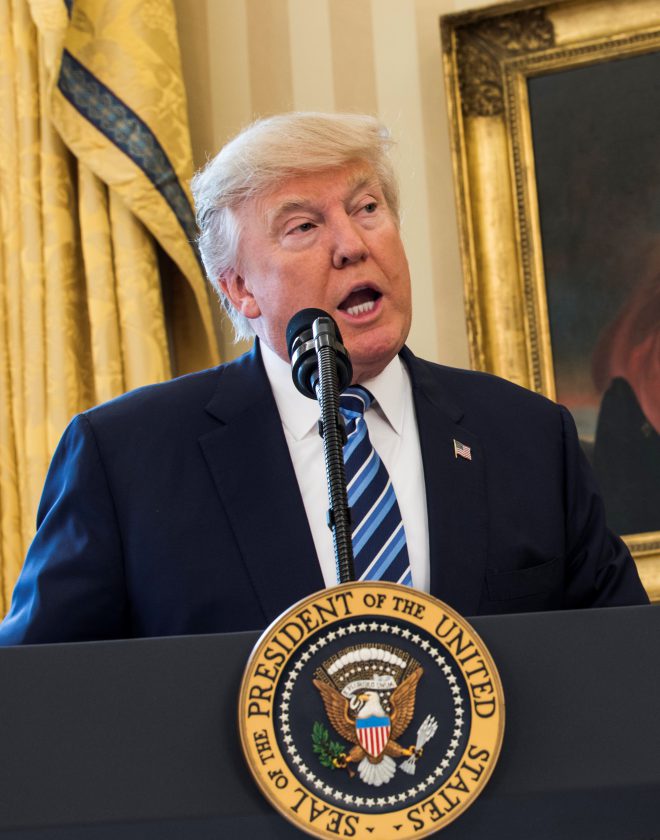 February 10, 2017
WASHINGTON- The unpredictable Donald Trump, since before he was elected US president last November, has been stoking concerns in Japan by making remarks critical of the nation over its security alliance and trade with his country out of the blue.
During the presidential campaign, Trump threatened to pull US forces out of Japan unless the Asian ally covers all US base costs. "We're going to continue to protect Japan, hopefully. But you always have to be prepared to walk," he said.
At a press conference ahead of his Jan. 20 inauguration, Trump blamed Japan, as well as China and Mexico, for racking up large surpluses in trade with the United States.
Just after he took office, the former businessman attacked the Japanese automobile market. "If...we sell a car into Japan, and they do things to us that make it impossible to sell cars in Japan, and yet they sell cars into us, and they come in by the hundreds of thousands," he said. "It's not fair. Never was."
Trump then turned his guns toward the yen, claiming that Japan has been trying to weaken its currency.
"Every other country (than the United States) lives on devaluation. You look at what China is doing. You look at what Japan has done over years," he said. "They play the money market, they play the devaluation market, and we sit there like a bunch of dummies." But those remarks by Trump may not have been that unpredictable.
About three decades ago, Trump took out a full-page advertisement in major US newspapers arguing that Japan had built a strong economy while being "unimpeded by the huge costs of defending themselves."
"For decades, Japan and other nations have been taking advantage of the United States," he claimed in the September 1987 ad. "It's time for us to end our vast deficits by making Japan, and others who can afford it, pay."
The then real estate mogul seemed to have feelings against Japan's booming economy amid an asset price bubble in the late 1980s to the early 1990s. He spent nearly 100,000 dollars on the ads, according to US media reports.
With these clues from the past, however, the outspoken US president still remains unpredictable to many in Japan, ahead of his first summit with Japanese Prime Minister Shinzo Abe, in Washington on Friday.
The Japanese side is wary of unexpectedly harsh demands on the economic front from Trump during the upcoming summit.
There are concerns within the Japanese government that the new president will happily attack Japan's trade surplus with the United States by referring to recent data showing that Japan became the second-largest contributor to the US trade deficit in 2016, rising from the previous year's third position, officials said.
Trump seems to have toned down his arguments about the Japan-US security alliance, as his secretaries of defense and state, James Mattis and Rex Tillerson, respectively, have underscored the importance of the bilateral alliance.
No public comments from him on the bilateral security matter have been reported since the Nov. 8 election. But instead, Trump now appears keen to speak about economic issues.
The Japanese government views his comments on economic issues as not necessarily based on a correct understanding of the current economic situation. Trump often makes allegations that are "beyond common sense in economic diplomacy," a senior Japanese government official said.
At the summit with Trump, Abe is ready to explain the "reality" of Japan-US economic relations, including bilateral trade, in order to dispel Trump's "misunderstandings," a government source said.
However, it remains unclear to what extent, if any, Trump will accept Japan's "logical" views.
"It won't be so easy, like, if you talk, you can understand each other," a senior Japanese diplomat said. (Jiji Press)