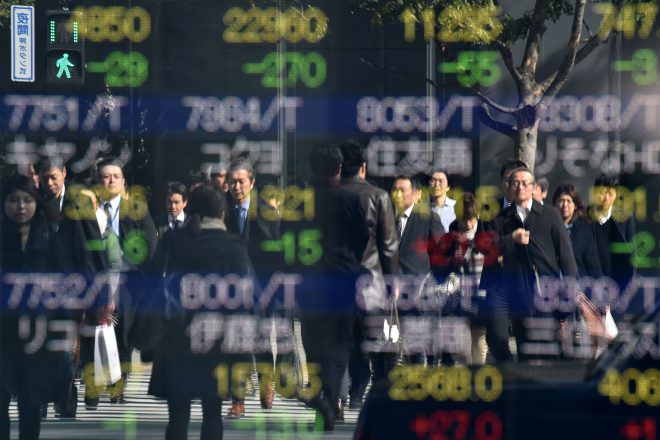 February 26, 2017
TOKYO- US President Donald Trump's congressional speech scheduled for
Tuesday
is likely to affect the course of Tokyo stocks next week, with investors paying close attention to whether the US leader will unveil details of his economic stimulus measures more than a month after taking office, analysts say.
This week, the benchmark 225-issue Nikkei average on the Tokyo Stock Exchange rose 48.92 points, or 0.25 pct, to close at 19,283.54
on Friday
.
The market moved in a narrow range throughout the week amid a wait-and-see mood prior to Trump's speech. Although the US Dow Jones industrial average continued its record-breaking advance, the yen's strength against the dollar helped cap Tokyo stocks' upside.
Next week, the Nikkei average is expected to remain range-bound, moving between 19,000 and 19,600, according to analysts.
"Investors will likely continue to sit on the fence" before Trump's speech, Yoshihiko Tabei, chief analyst at Naito Securities Co., said.
Players will be focusing on whether Trump will detail his economy-boosting measures, such as tax reforms and fiscal spending, market sources say.
An official of a bank-affiliated securities firm said that selling would hit the stock market if his address falls short of expectations.
"If nothing new comes out, the yen could rise (against the dollar)," pushing down Tokyo stocks, Naito Securities' Tabei warned.
But the market's downside is expected to be limited, with investor appetite for buying on dips remaining strong, Tabei added.
Meanwhile, an official at a major securities firm sounded pessimistic, saying that expectations for the new US administration's policy measures are gradually fading.
If US equities enter a correction phase, Tokyo stocks could follow suit, some analysts said.
Key economic data due out next week include the US Institute for Supply Management's manufacturing activity index for February and China's manufacturing purchasing managers' index for the same month, both set to be released
on Wednesday
.
Speeches by US Federal Reserve Chair Janet Yellen and other Fed officials, slated for
March 3
, are also expected to attract investor attention. (Jiji Press)