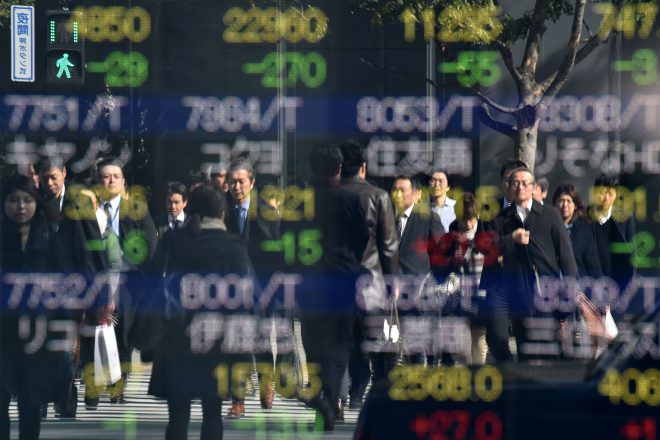 March 15, 2017
TOKYO- The Tokyo Stock Exchange said
Tuesday
that it will designate shares of troubled Toshiba Corp. as a stock "under supervision" on Wednesday to warn investors that the issue could be ousted from the exchange in the future depending on the situation.
The move comes as 18 months have passed since Toshiba shares were designated as a stock "on alert" in September 2015 following the discovery of accounting fraud at the electronics and machinery maker the same year.
The TSE will call investor attention on Toshiba as an issue that could be delisted based on its relevant rules.
As Toshiba will inevitably see negative net worth at the
March 31
end of the current business year due to huge losses in U.S. nuclear energy operations, it will likely be moved from the TSE's first section to its second section on
Aug. 1
. If the company's debts still exceed its assets as of
March 31, 2018
, it will be delisted.
Toshiba plans to submit to the TSE on Wednesday a document including measures to improve its internal control to prevent accounting fraud.
It is the second time for the firm to present such a paper. If the TSE finds the upcoming measures insufficient, the exchange will decide to expel Toshiba.
In December last year, the TSE decided not to lift Toshiba's designation as an "on alert" issue because another case of accounting fraud came to light at the firm, while urging Toshiba to submit the document on Wednesday or later.
The document will be screened by Japan Exchange Regulation, the self-regulatory arm of Japan Exchange Group Inc. , or JPX.
Usually the screening ends
in three months
. But it may take "considerably" longer for Toshiba, which has not yet released earnings results for April-December last year, said JPX Group Chief Executive Officer Akira Kiyota. (Jiji Press)