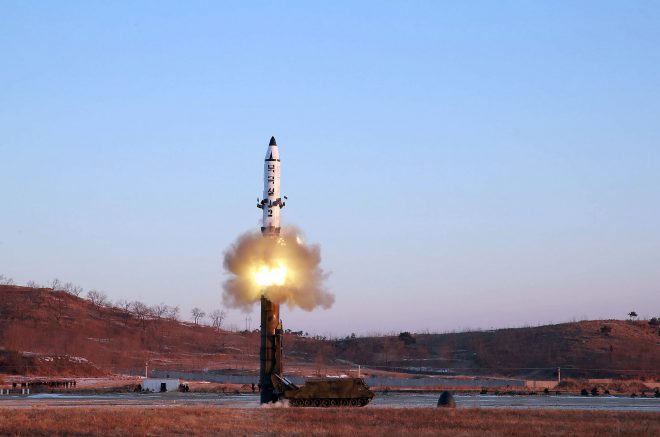 February 15, 2017
NEW YORK- 
The U.N. Security Council
on Monday
unanimously adopted a press statement denouncing North Korea's ballistic missile launch
on Sunday
and warning the reclusive country of possible further actions.
The members of the Security Council "strongly condemned" the nuclear test, the statement said, adding that they agreed that the powerful U.N. organ will "continue to closely monitor the situation" and "take further significant measures" in line with its previously expressed determination.
The missile launch was "in grave violation" of Pyongyang's international obligations under past Security Council resolutions against the country, it said.
The missile launch represented the first provocative action by North Korea since the administration of US President Donald Trump was launched last month.
China and Russia, both allies of North Korea and two of the council's five veto-wielding permanent members, supported the new statement.
While the statement stopped short of mentioning specifics of the "further significant measures," the Security Council is expected to discuss details of such measures later, informed sources said.
Following the adoption of the statement, the 15 member countries of the Security Council held an emergency meeting to discuss the North Korean situation, at the request of Japan, the United States and South Korea. The focus will be a response by China.
Japanese Ambassador to the United Nations Koro Bessho told reporters after the emergency meeting that he hopes the international community will persuade North Korea to change its policy by applying pressure on the country through the thorough implementation of the council's sanctions resolutions.
He declined to elaborate on the possibility of Japan strengthening its sanctions on North Korea, saying that nothing specific has been decided at the moment.
A press statement by the Security Council, unlike a resolution, has no binding power, but is intended to demonstrate the 15 members' unified stance to the international community. The adoption of a press statement requires approval from all member nations.
Also
on Monday
, US Ambassador to the United Nations Nikki Haley released a statement calling on all Security Council members to "use every available resource" to make it clear to the North Korean regime and its enablers that the missile launch is "unacceptable," signaling the importance of a response by China, the closest ally of North Korea.
"It is time to hold North Korea accountable, not with our words, but with our actions," she also said.
The Security Council statement also said that the missile launch will contribute to North Korea's development of nuclear weapons delivery systems and increase tensions.
Ahead of the emergency meeting, Trump said at a press conference, "North Korea is a big, big problem, and we will deal with that very strongly."
Condemning the missile launch and other recent attempts by North Korea, Jeff Davis, a spokesman of the US Defense Department, told reporters that the United States will take all necessary measures to deter and defeat threats to the country and ally territories and citizens.
In response to North Korea's past nuclear tests and missile launches, the Security Council has adopted six sanctions resolutions against the country since 2006.
Most recently, the council imposed in November last year a cap on North Korea's exports of coal, its largest source of foreign currencies, as an additional sanction. But the step has failed to deter Pyongyang's nuclear and missile ambitions. (Jiji Press)