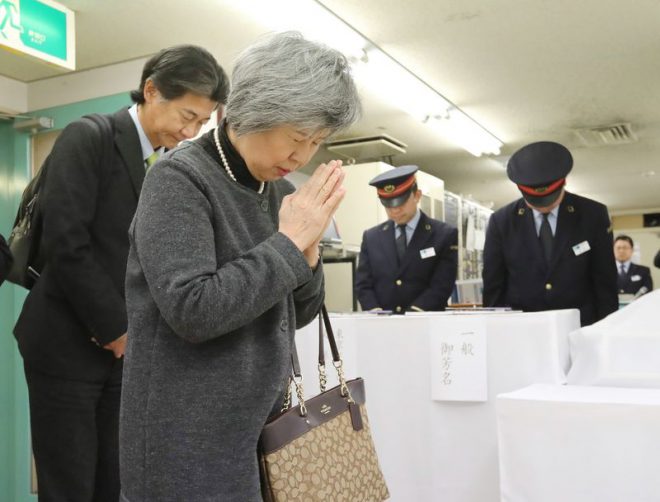 March 20, 2017
TOKYO- A ceremony was held at Kasumigaseki Station
on Monday
to mourn victims in deadly sarin gas attacks on Tokyo subway systems 22 years ago, which killed 13 people and left more than 6,000 people injured.
At
8 a.m.
(
11 p.m.
Sunday
GMT), 21 officials of Tokyo Metro Co. offered silent prayers at the station in Chiyoda Ward, where two employees of the subway network operator--Kazumasa Takahashi and Tsuneo Hishinuma--died in the simultaneous nerve gas attacks on the Hibiya, Marunouchi and Chiyoda Lines by the Aum Shinrikyo doomsday cult during the morning rush hour on March 20, 1995.
After the moment of silence, Toyohiko Otomo, head of the Kasumigaseki Station district, expressed his determination to keep telling what actually happened on that day to younger Tokyo Metro employees with little knowledge about the incident.
Takahashi's wife, Shizue, was among those who came to lay flowers at the station.
"I want young people to know the (miserable) consequences from joining a cult, leaving their decisions up to one person and harming many people," she told reporters. (Jiji Press)