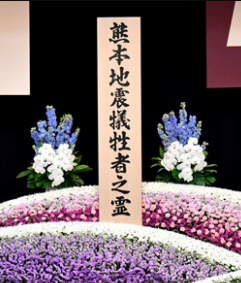 April 14, 2017
KUMAMOTO- 
A memorial ceremony was held in the Kumamoto prefectural government office
on Friday
to remember those who died in a series of powerful earthquakes that began on April 14 last year.
A total of 356 people, including bereaved families and local officials, attended the ceremony in the city of Kumamoto, sponsored by the prefectural government.
The quakes left over 200 people dead in the southwestern Japan prefecture, including those who died from indirect causes.
The central government "will make the utmost effort to realize reconstruction, with feelings of sympathy for each disaster victim," Prime Minister Shinzo Abe said at the ceremony.
"I believe that those who died in the disaster would be happier if bereaved family members look ahead and take a step forward," said Mayumi Tominaga, a 58-year-old resident of the city of Kumamoto. She lost her mother from an indirect cause.
After observing a minute of silence, participants offered flowers at an altar and mourned the victims.
After the ceremony, Kumamoto Governor Ikuo Kabashima said the prefectural government will do more to help people in temporary housing live comfortably and to prevent them from feeling isolated.
The prime minister later visited Kumamoto Castle, a shopping district and other places affected by the disaster to encourage local people.
According to the prefectural government, 50 people were directly killed by the disaster. Most of them were crushed to death. (Jiji Press)