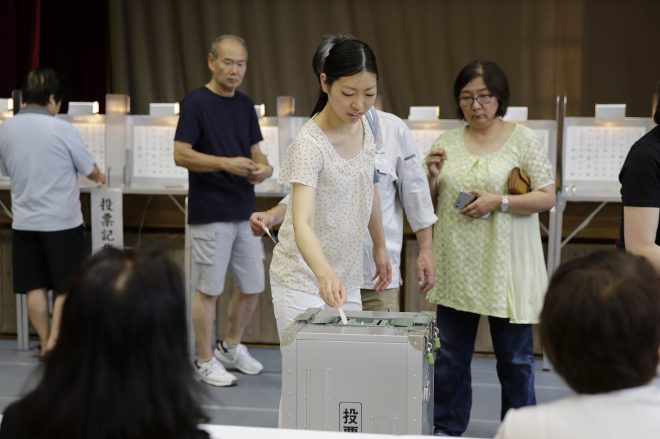 July 2, 2017
Tokyo- Balloting was under way Sunday in the Tokyo metropolitan assembly election, the first test of voter sentiment in the Japanese capital since Governor Yuriko Koike took office in August last year. The main focus is whether Koike's regional party, Tomin First no Kai (Tokyoites first group), and groups supportive of her will win a majority of at least 64 seats together in the 127-member metropolitan assembly.
One of the points at issue is Koike's handling of a plan to relocate the Tsukiji wholesale food market to the Toyosu district that has been put on hold due to concerns about soil contamination at the new site.
She announced a decision last month to go ahead with the plan.
Prime Minister Shinzo Abe's Liberal Democratic Party aims to maintain its status as the largest group in the assembly but is struggling with public criticism of his alleged favoritism over a school plan and a recent gaffe by Defense Minister Tomomi Inada.
Voting started at 
7 a.m.
 (
10 p.m.
Saturday
 GMT) and will continue until 
8 p.m.
, except for some areas. The winners are expected to be known late at night. The election results are likely to affect national politics as well.
There are 259 candidates who spread over 42 electoral districts. The number of candidates is the second largest since the current total number of seats was set in 1997. Women accounted for a record high of 65.
Voter turnout is widely expected to top 43.50 percent in the previous 2013 election as the battle between Koike and the LDP is drawing keen public attention. (Jiji Press)