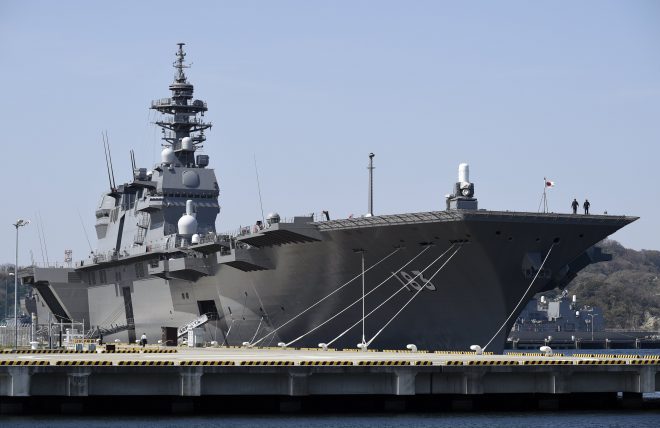 May 2, 2017
Tokyo- The Japanese Self-Defense Forces' first-ever operation to protect a US Navy ship was intended to highlight the strength of the bilateral security alliance and warn North Korea against further missile or nuclear tests, officials said.  But the operation apparently reflected Japanese Prime Minister Shinzo Abe's desire to make certain achievements under his country's security laws, which he was eager to pass.
Abe convened a meeting of senior foreign and defense ministry officials
on Monday
to discuss tensions over North Korea, where he was believed to have been briefed on the escort of the cargo ship USNS Richard E. Byrd by the Maritime SDF's helicopter carrier Izumo.
"The operation is intended to tout the strength of Japan-US collaboration" at a time when tensions are growing over North Korea, a senior Japanese defense official said.
Speaking at a press conference in London after North Korea's latest ballistic missile launch
on Saturday
, Abe said, "The deterrence and response capability of the Japan-US alliance needs to be strengthened in order to prevent further North Korean provocations."
The SDF's escort of the US vessel demonstrated the seriousness of his determination to enhance the alliance further.
The escort was based on the security laws that went into force in March last year. The laws expanded the scope of the SDF's protection that involves the possible use of weapons to include vessels and aircraft of US and other foreign forces.
But some questioned the significance of the operation, claiming that an area covered by the escort--waters off Japan's Pacific coast--is less vulnerable to North Korean threats. "The SDF's protection is not always necessary" in the waters, a Japanese government source said.
In addition, some said the Izumo is not suited to protect another vessel because the 19,500-ton Japanese ship, though being one of the MSDF's largest destroyers, is lightly armed.
Furthermore, the escort was not the Izumo's main mission as the destroyer was on its way to Singapore to attend an international fleet review.
Critics said the Abe government only intended to achieve a certain milestone on the security front by ordering an escort in relatively safe waters. (Jiji Press)