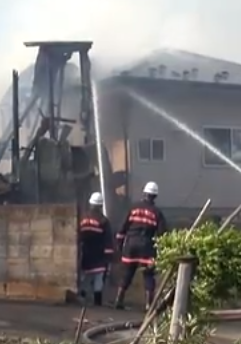 May 9, 2017
Tokyo- Wildfires sparked by dry and windy weather raged in areas in two prefectures along the Pacific coast in the Tohoku northeastern Japan region
on Monday
.
No one is believed to have been injured in the fires, officials of the police departments in Miyagi and Iwate prefectures said. Local authorities are investigating the causes of the fires.
Fire authorities received an emergency call around
12:05 p.m.
(
3:05 a.m. GMT
) reporting that a bamboo grove in the Tsukidatekamimiyano district in the city of Kurihara, Miyagi, had caught fire. Due to strong winds, the fire spread to houses nearby, leading the city government to issue 117 households with an evacuation order, according to local authorities.
A total of 11 buildings were fully or partially burned. The fire was put out about eight hours after it started.
In the Heita district in the city of Kamaishi, Iwate, a forest fire broke out around
noon
, with an evacuation order issued to 136 households.
Because fire trucks could not approach the fire site in the forest, which is located on a cape, helicopters were mobilized for extinguishing the fire, according to sources, including the Kamaishi municipal government. Also, pumper trucks were transported to the cape via the sea to join the mission.
The fire extinguishing operations were suspended
Monday
evening and will restart
on Tuesday
.
A warning of very strong winds and dry air had been issued in Kurihara around the time of the fire, with winds as strong as about 20 meters per second observed, according to the Japan Meteorological Agency.
A strong wind and dry air warning had been in place also in Kamaishi. A maximum instantaneous wind speed of 25.9 meters per second was recorded there shortly before
11 a.m.
, officials from the agency said.
Meanwhile, a man suffered a minor burn in a mountain fire in the town of Nasu, Tochigi Prefecture, eastern Japan.
The fire, which raged across some 900 square meters, occurred
on Monday
afternoon in an area near the ski resort where an avalanche killed seven high school students and a teacher in March. (Jiji Press)