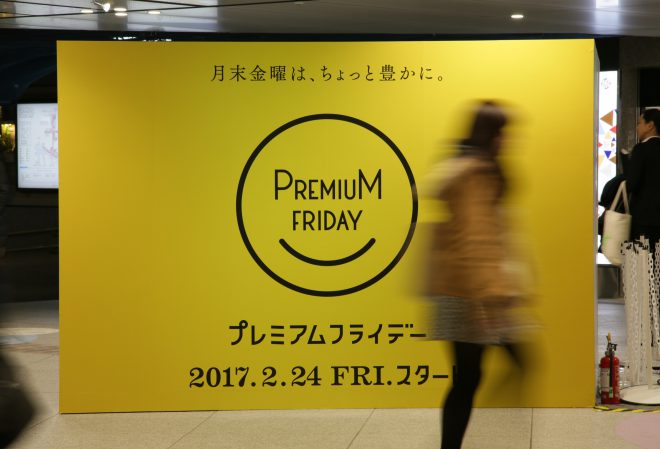 February 26, 2017
TOKYO- Corporate workers in Japan were divided in their responses to the start
on Friday
of the public-private "Premium
Friday
" campaign encouraging people to leave work early on the last Friday of each month.
Daiwa House Industry Co. told employees to start working earlier than usual and to finish work in the morning to ensure more leisure time.
Some employees at Daiwa House Industry's headquarters in Tokyo's Chiyoda Ward left their workplace after the announcement on the campaign at
noon
.
Tomoyo Tsuneda, 28, went to a sports club that offers Premium
Friday
-linked services at half price. "I can't go to (the sports club) often because I want to rest at weekends," Tsuneda said, adding that "I hope to use the campaign for a variety of experiences."
Masahiro Otsuki, 35, planned to get home quickly to pick up a child from kindergarten. "I only see the child sleeping most weekdays," he said.
"Both my child and I look forward to the campaign as it allows me to spend more time with my family," Otsuki said while smiling.
The systems division of an affiliated company of Suntory Holdings Ltd., located in Tokyo's Minato Ward, held a social gathering at an "izakaya" eatery from
3:30 p.m.
"It's quite a while since I last attended a drinking party," said Mirei Yuhara, a 38-year-old employee of the division and the mother of a second-year elementary school student.
"I don't have to coordinate schedules with my husband at time of the day." Yuhara said. "I'm happy to communicate with colleagues outside work."
Meanwhile, a 33-year-old male banker in Tokyo's Shinbashi district said the Premium
Friday
campaign is "unrealistic because there are operations after
3 p.m.
," when many Japanese banks close.
"I'm overwhelmed with work every day and have been working overtime (these days).
I think I'll have to work at home if the campaign is introduced (at my company)," a 52-year-old consulting firm worker complained.
The Premium
Friday
is "a typical bureaucratic project that looks good on paper," said Toshiaki Funakubo, 73, who chairs an association of small factories in Tokyo's Ota Ward.
The government "doesn't know what smaller businesses really are," Funakubo said.
"We are managing to have two days off a week due to requests from business partners and labor shortages," he said, expressing concerns that big companies would make an unreasonable demand on smaller businesses to have their employees take leaves.
Funakubo claimed that the government should conduct the campaign on the first
Friday
of every month as workers are particularly busy on month ends with financing and accounting procedures. (Jiji Press)