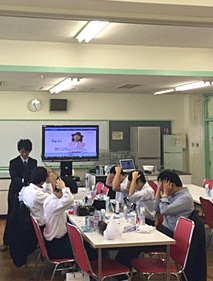 April 10, 2017
TOKYO- With job-hunting by university students about to get into full swing, Japanese cosmetics makers are offering young men tips on grooming and how to maintain a good appearance for job interviews.
The companies hope to familiarize students with their products, aiming to cultivate demand for men's cosmetics, seen as an area with room for growth.
Young men, said to be more attentive to grooming than their seniors, are currently the focus of their efforts to acquire new customers.
Since last December, Mandom Corp. has held seminars on grooming for male students who aim to be employed upon graduation next spring, using its Gatsby-brand products for men, at six universities including Kindai University. More than 200 attended in total.
The company plans to organize more such seminars depending on requests.
"We anticipate a rise in demand from students beginning in June, when job interviews with companies start in full," an official of Mandom's production publicity office.
On its website for job-hunting students, Shiseido Co. has added a special page to advise on hair and skin care with its uno series of men's cosmetics.
On the page, users can also find tips on hairstyles likely to make a favorable impression at job interviews, based on a survey of company recruitment personnel.
"An increasing number of people tend to be conscious of their appearance during the job-hunting period, so it is a good opportunity for us to get the attention of young people," a spokesman for Shiseido said.
Kao Corp. has distributed 85,000 free samples of its brand shaving gel, with a magazine for student job hunters. (Jiji Press)