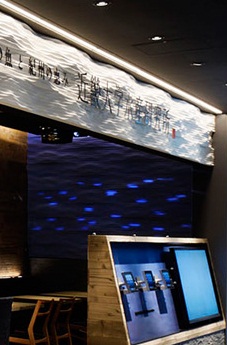 May 1, 2017
Tokyo- Kindai University has created a wallet from the skin of bluefin tuna that it fully farmed from eggs for the first time in the world.
The black wallet, developed jointly with Cordvan & Co., a leather products maker in the city of Himeji, Hyogo Prefecture, western Japan, and named "Piscine" went on sale
Friday
at the company's store in the western Japan city of Osaka.
Priced at 30,240 yen, the wallet offers both the elegant luster and bumpy feel of tuna scales, according to officials of Cordvan and the university, which is located in Higashiosaka in Osaka Prefecture.
The wallet is made mainly from skin taken from the back of the tuna. The tanning process used to make the skin durable was difficult because tuna skin is thinner than other animal skins, the officials said.
Kindai University and Cordvan have also developed purses and card holders from the skin.
Farmed tuna offers a stable supply of undamaged skin, the officials said. However, the wallet and the other products are only on sale at Cordvan's Osaka store because supply is limited, they said. (Jiji Press)