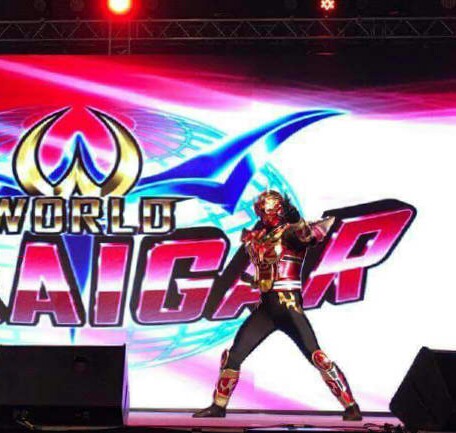 January 14, 2017
AKITA- A Japanese hero character created in the aftermath of the 2011 Great East Japan Earthquake and tsunami is growing in popularity in Thailand through a television program broadcast in the Southeast Asian nation.
The television show featuring the character named "Tohoku Gasshin Miraigar" (Miraigar God of Tohoku) has been broadcast in Thailand since November. It was initially launched in the disaster-struck northeastern Japan region in 2012 to entertain children suffering in the aftermath of the March 11, 2011, natural disasters and subsequent Fukushima nuclear accident.
Akita Prefecture-based company Courage Force Inc. developed the character by combining themes from Akita Prefecture's demon-like deity Namahage, the Nebuta summer festival in Aomori Prefecture and other famous aspects of four other northeastern prefectures. Since creating the character, the company has held live shows in support of disaster victims around the region.
In December 2014, Courage Force launched an overseas campaign, and President Tamotsu Ebina contacted Thai partners through an international exchange group. It later held a live show there and a decision was made in July 2016 to broadcast a Miraigar television program.
The series named Miraigar T1, showcasing the character and a local counterpart, has proved very popular.
The program depicts the two Miraigars fighting against demons in modern settings. Japanese singer Ichiro Mizuki put his voice to the theme song which is subtitled in Thai. (Kyodo News)