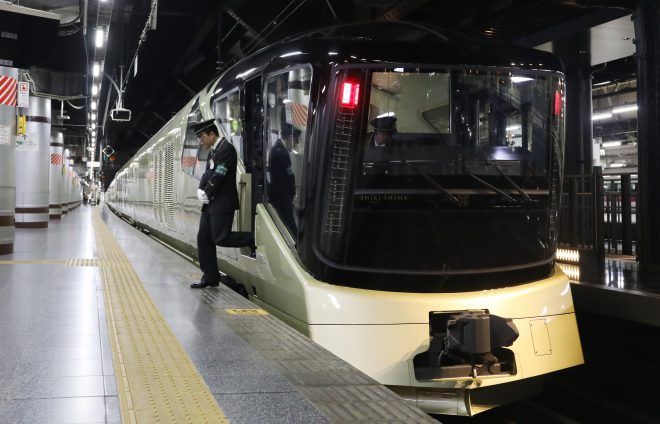 May 1, 2017
Tokyo- The Train Suite Shiki-Shima luxury sleeper operated by East Japan Railway Co. or JR East, went into service with some fanfare
on Monday
with Japan now into its Golden Week holiday period.
At
11:40 a.m.
, Shiki-Shima left central Tokyo's Ueno Station for a four-day, three-night tour of the northernmost prefecture of Hokkaido and the Tohoku northeastern region.
The train has only 17 cabins, all suites, and all tickets for the first train were sold by lottery due to high demand.
The chance of winning was one in 76 for the most expensive room, known as Shiki-Shima Suite, which is priced at 950,000 yen per person when shared by two people.
"When I applied for the tour a year ago after retiring, I never expected to win a ticket," said Satoshi Hayami, a 65-year-old Tokyo resident who was about to board the train with his wife. "I've been waiting for this all year."
At the ceremony to mark Shiki-Shima's debut, JR East President Tetsuro Tomita said, "We hope that the train will help promote the reconstruction of Tohoku and breathe new life into the regions it passes through." Tohoku was badly affected by the March 2011 earthquake and tsunami.
The train, which can accommodate up to 34 passengers, has 10 cars, including a lounge car, a dining car and two observatory cars. It provides services nearly on par with those of a luxury hotel.
Shiki-Shima also offers overnight and three-day, two-night tours, with destinations also including the Kanto-Koshinetsu region of eastern and central Japan.
The train is fully booked until next March despite the high prices, which range from 320,000 yen to 1,155,000 yen per person. The highest price is for the four-day, three-night tour to Hokkaido and Tohoku for Shiki-Shima Suite when occupied by one passenger. (Jiji Press)