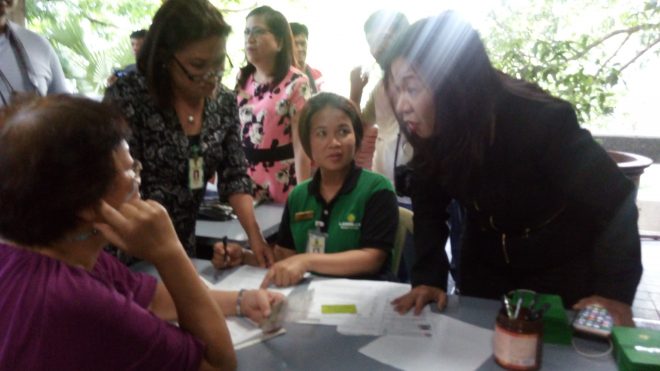 May 8, 2017
Three hundred and seventeen martial law victims lined up to receive partial reparation from Human Rights Victims' Claims Board
on Monday
.
Amid  hot weather and thick crowd, white-haired elderly men and women with their relatives and guardians received their cash cards from Human Rights Victims' Claims Board in cooperation with Landbank at East Virata Hall, UP Diliman.
The Human Rights Victims' Claims Board said the partial monetary reparation will be given to first 4,000 approved claimants.
They said the monetary compensation comes from the ill-gotten wealth of Marcos's recovered from the Swiss banks.
Loretta Rosales, a former commission on human rights chairwoman, said "$650 million came from Swiss banks accounts, a portion of which is the source of the current compensation process, of which  200 million dollars will be distributed to human rights violation victims".
In a media kit by the Human Rights Claimants Board, it said the compensation for each claimant is obtained multiplying the estimated valued of one point which is equal to 25,000 pesos by the number of points awarded to each person.
The board said the total amount of monetary reparation depends on the deliberation results of the remaining claims.
Distributed to the 317 human rights victims but varying amounts depending on the level of torture or length of imprisonment, were P28,637,500. A point system was used to determine how much a human rights victim receives. The lowest, or one point, under the point system is P25,000,
Lina Sarmiento, head of the Human Rights Claimants Board, said in a text message that they received 75,730 applications after the two rounds of instake."
"We have finished deliberating 40,000 claims so we still have 35,730 remaining claims to be adjudicated," she added.
Satur Ocampo, a former congressman, said aside from cash cards, the victims are entitled to non-monetary compensation from different government agencies.
After more than 30 years, martial law victims, mostly senior citizens patiently waited in line for hours to receive their monetary reparation.
Philip Suzara, detained for six years during martial law said, "The feeling is so ambiguous at once I feel jubilant yet one is still angered at the thought that, indeed, martial law and its attendant atrocities was not just a nightmare but a reality." (Alanna Ambi/DMS)