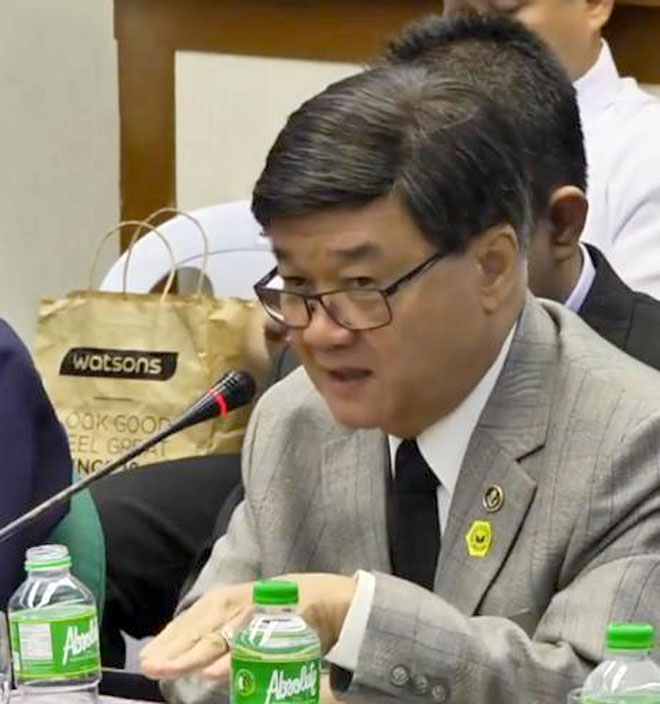 March 8, 2017
The justice department said it cannot arrest Mighty Corp owner Alex Wong chuking despite an order of President Rodrigo Duterte due to supposed failure to pay taxes with the Bureau of Internal  Revenue because there are no cases filed against him.
Wongchuking and his lawyer Sigfrid Fortun
on Tuesday
met with Justice Secretary Vitaliano Aguirre II to assure he will cooperate in any investigation.
"We just talked. He expressed his willingness to fully cooperate with any investigation that may involve him. Why he was not arrested? At the time of our meeting yesterday (
Tuesday
), there were no cases filed against Mr. Alex Wongchuking yet, that is why I did not order his arrest," Aguirre said in a statement.
'There is no reason to have Alex Wongchuking arrested as of the moment. While the Department of Justice is at the forefront of ensuring that our laws be faithfully obeyed, there is a process that has to be observed under the law," Aguirre said.
Duterte earlier ordered Wongchuking's arrest for "economic sabotage."  He is being investigated by the Bureau of Internal Revenue and the Bureau of Customs for tax evasion and possible charges.
Aguirre said the BIR and the BOC with the justice department "should sit down and fully determine the exact liabilities" of the tobacco firm.
He said he will collect Mighty Corp's tax obligations once it is established.
"If the DOF or the BIR or the BOC will determine that a criminal case should be filed against Mighty Corp., its officers or against Alex Wongchuking with us at the DOJ, then we will faithfully discharge our duty and determine if probable cause exists," Aguirre stressed.
The Bureau of Customs earlier said it is preparing charges of smuggling against those behind the shipments of Mighty Cigarettes bearing fake tax stamps seized in successive raids in Pampanga, General Santos, Cebu and Tacloban.
The BOC's legal service is building a case against those behind importing the cigarettes, which it described as "counterfeit."
Customs and the Bureau of Internal Revenue confiscated 11,044 master cases of Mighty cigarettes worth P215 million in General Santos City and 62,200 master cases valued at P1.98 billion in San Simon, Pampanga.
Earlier this week, BOC seized three more containers carrying Mighty cigarettes in the Port of Cebu and in Tacloban in an operation led by Commissioner Nicanor Faeldon.
Faeldon said the boxes were said to be part of several shipments of Mighty cigarettes bearing fake tax stamps. DMS