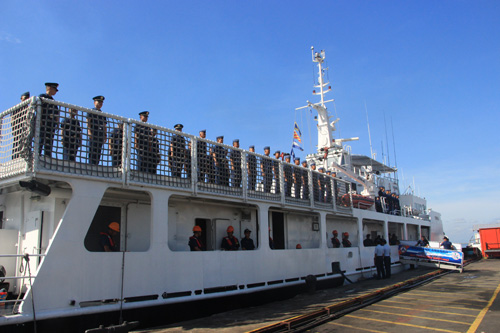 May 8, 2017
Four vessels carrying a total of more than 200 Philippine Coast Guard personnel, left for Bali, Indonesia on Monday to join the Marine Pollution Exercise 2017.
Commodore Joel Garcia, head of the Philippine Coast Guard, led the send-off ceremony for BRP Pampanga and BRP Nueva Vizcaya on Pier 13, South Harbor.
Garcia said  BRP Tubbataha and Tugboat Habagat are in Davao.
He said the Indonesian exercise will be conducted from May 15 to 18.
According to Garcia, the purpose of the Marine Pollution Exercise is to guard waters of Sulu Sea, Celebes Sea and Andaman Sea and to strengthen relationship between two countries.
"This is not an ordinary exercise because this way we can see the capabilities of the two countries on how to suppress massive oil spill incidents and we can see the cooperation of the two countries about what we call marine pollution exercise", Garcia said.
 He said neighboring countries like Japan, US, Malaysia and Australia were invited as observers. (Alanna Ambi/DMS)