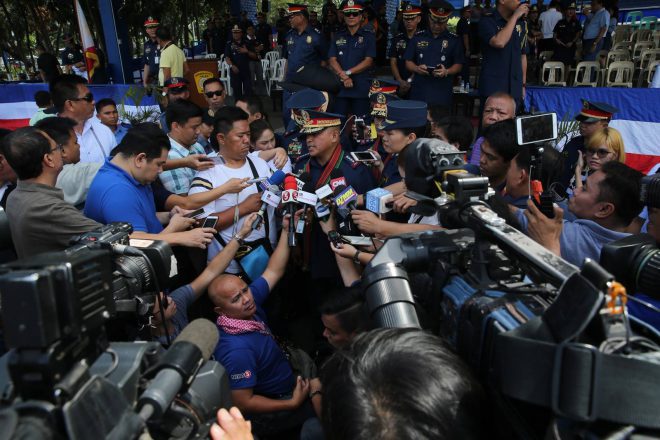 March 7, 2017
Four people were killed in different anti-illegal drug operations in Bulacan a day after the Philippine National Police launched Oplan Tokhang reloaded.
In an interview at Camp Karingal, PNP Director General Ronald dela Rosa confirmed  there are casualties in Bulacan after they re-launched their anti-drug war campaign.
In an initial report from Superintendent Heryl Bruno, disclosed two people were killed in Sto. Cristo diversion road. They were identified as Elmer Pagsanjan and Francis Bondoc around
12 midnight
.
A certain Errol was also killed in front of a mall in
Malolos
City
around
1:40 am
and a certain Norlito Sena was killed while police were serving a search warrant at Barangay Panasaan in the same city.
Dela Rosa said all the alleged suspects fought back during the operation.
Dela Rosa told his subordinate commanders to make sure their new campaign will not be used by people who have their own personal agendas.
"Now, let's guard (the campaign), that no one will used it," he added.
Despite the fatalities, Dela Rosa assured the PNP's new anti-illegal drug war campaign will be less bloody even as he hoped the Catholic church will help them.
"I hope that they can still give their trust to our policemen. I am asking them to help us and that's their reaction," he said.
The Catholic Bishops Conference of the Philippines rebuffed the invitation of the PNP for Church representatives to start accompanying cops in conducting Oplan Tokhang.
"I do not believe that the Church will make it a policy for priests to join such operations because such activities are for the exclusive undertaking of the police. I don't think it is necessary for the priests to accompany them," said CBCP Permanent Committee on Public Affairs Executive Secretary Father Jerome Secillano.  Ella Dionisio/DMS