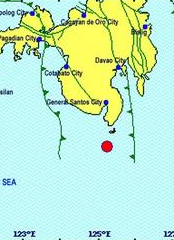 April 30, 2017
Two more people including a 2-month old baby were injured in South Cotabato after a 7.2 magnitude earthquake hit Davao Occidental Saturday morning.
Office of Civil Defense Region XII identify the victims as Irene Jorda, 20 and Asheya Jorda, 2-month old from Brgy. Takonel, Lake Sebu who both sustained head injuries.
OCD can't confirm if the two were related.
An officer from OCD Region XII said a field evaluation is being done to know the extent of damage caused by the quake in the region. (Ella Dionisio/DMS)