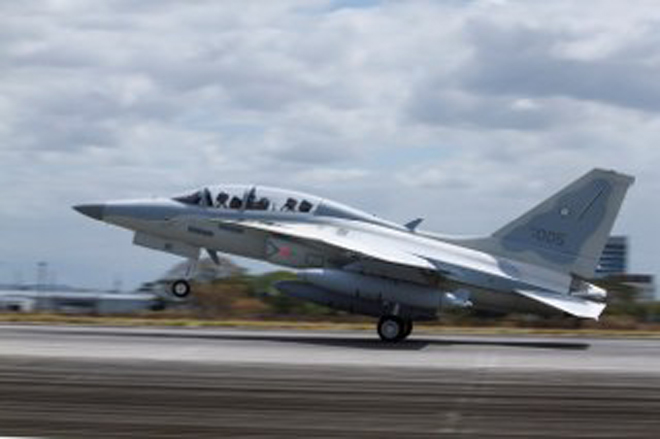 March 3, 2017
The fifth and six units of the FA-50 trainer fighter aircraft were formally accepted by the Philippine Air Force in a ceremony in Pampanga
on Thursday
.
Col. Antonio Francisco, Philippine Air Force spokesman, said the two FA-50 aircraft with tail number 005 and 006 that arrived last month was turned over and blessed at the Haribon Hangar,
Air
Force
City
, Clark Air Base in Pampanga around
9 am
.
He said the event was led by Armed Forces of the Philippines (AFP) Commander of Air Logistics Command Major General Arnold Mancita.
Francisco said the planes underwent acceptance flights by end-users test pilot with the presence of the Technical Inspection Acceptance Committee (TIAC) members.
Francisco said the additional FA-50 aircraft will " enhance our capability in terms of territorial defense."
"It will further strengthen our assets and it will further boost our training, for us to have more time, more skills for our jet pilot, Francisco said.
"In case we have further improvement in the near future at least we have time and required skills on supersonic jet that is why we will have a very good development," he added.
It can be recalled that FA-50 aircraft were used in the military operation against a terrorist group in Mindanao.
The government has spent a total of P18.9 billion  to buy 2 FA-50 fighter aircraft from Korea Aerospace Industries (KAI), the first batch of which were delivered on November 2015, while the second batch has arrived in the country on November 2016.
Francisco confirmed the deliveries of the remaining six units are expected to be completed within the year. Robina Asido/DMS