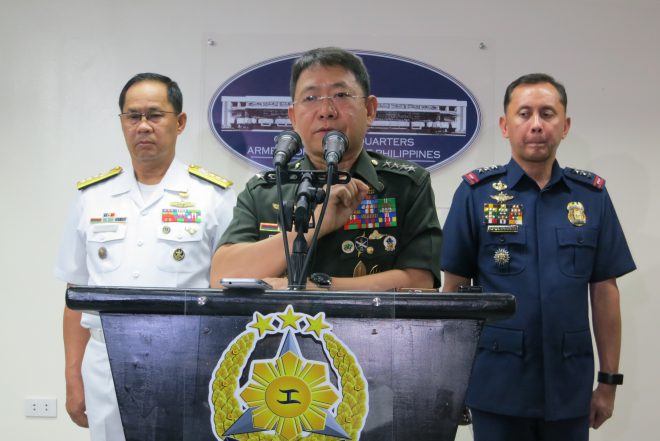 April 12, 2017
Almost a dozen of Abu Sayyaf Group (ASG) bandits, including two sub-leaders, surrendered to government authorities Tuesday night, military said on Wednesday.
In a press conference in Camp Aguinaldo, Armed Forces of the Philippines (AFP) Chief of Staff Gen. Eduardo Año said eleven notorious members of ASG, including two of their sub leaders, surrendered to Joint Task Force Tawi-Tawi led by Brig. Gen. Custodio Parcon Jr. at the Marine Barracks Domingo Deluana in Barangay Sanga-Sanga, Bongao, Tawi-Tawi at around 6pm.
Captain Jo-ann Petinglay, AFP Western Mindanao Command spokesperson identified the two Abu Sayyaf sub-leaders as Berong Sariol, aliaas Boy Master, and Ben Saudi Dambong Sariol, alias Boy Pangit.
Petinglay said the terrorist members were among the ASG involved in the cross border kidnappings and seajacking activities in southern Philippines.
"Ben Saudi Dambong Sariol, alias Boy Pangit, 39 years old and a resident of Panglima Sugala, Tawi-Tawi, is a known ASG/ Kidnap For Ransom Group (KFRG) leader operating in Tawi-Tawi province, while Berung Sariol, alias Boy Master, is an ASG sub-leader in Sulu, who later transferred and operated in Tawi-Tawi with the former," she said.
In May 2009, both sub-leaders were arrested at the Omar Lumber Yard in Elmo St., Bongao, Tawi Tawi, she said.
However, they were released in Zamboanga City due to the absence of warrants of arrest, she added.
Petinglay noted that the Abu Sayyaf bandits were also involved in the beheading of priest Reynaldo Roda in Tabawan, South Ubian, Tawi-Tawi; the abduction of Mayor Hji Kuyoh Pajiji of Sibuto Municipality; the abduction of Marcy Dayawan (Filipino) and Gao Hua Yun (Chinese) at the Singamata Resort, Sampurnah, Sabah; and the abduction of Chulhong Park and Glen Alendajao in Barangay Baldatal, Sapa-Sapa, Tawi-Tawi on October 23, 2016.
"Further, the Sariol group is wanted in Sabah for various piracy and kidnapping offenses. Their group could be likened to the Muktadil brothers during the early days, and it jointly executed previous kidnapping activities with the notorious Muktadil," Petinglay said.
Other members who surrendered were identified as Jasim Dambong, alias Dams; Mujil Dambong; Magelan Langal; Kael Sariol; Nurhamin Sariol; Alhan Sariol; Amnisain Sariol; Akmad Sariol; and Benasil Sariol, all residents of Sitio Gigipan, Barangay Baldatal, Sapa-Sapa, Tawi-Tawi.
Petinglay said the suspects also surrendered their firearms to the government forces that include one M16 rifle with M203, one M14 rifle, one M79 rifle, and four M1 Garand rifle.
"Troops of the Joint Task Force Tawi-Tawi immediately subjected the Abu Sayyaf sub-leaders and nine members to a medical check-up and interview upon their surrender last night," she said.
The bandits would be turned over to the Tawi-Tawi police for the proper legal procedures, she added. (Robina Asido/DMS)