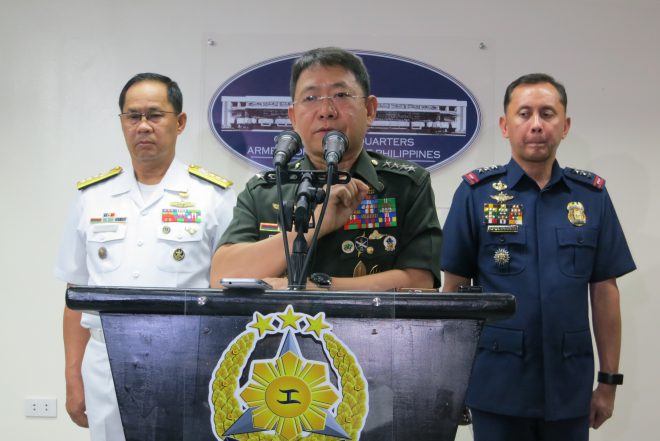 April 12, 2017
An Abu Sayyaf sub leader was allegedly one of the six bandits killed in the a firefight
on Tuesday
in the island province of Bohol, military said
on Wednesday
.
Armed Forces of the Philippines chief of staff General Eduardo Año identified the slain high-ranking Abu Sayyaf leader as Muamar Askali alyas Abu Rami.
"We have recovered and accounted for six enemies killed in this incident and among the dead is Muammar Askali alyas Abu Rami, an ASG sub leader and their known spokesman," he told reporters in Camp Aguinaldo.
"Abu Rami is a young, aggressive and upcoming leader of the ASG who has the potential of being the next leader of the ASG. We also recovered four high powered firearms from the scene," he added.
Año said the identity of Abu Rami was confirmed based on the information given by the sources and by comparing his picture with that of the slain bandit in Inabanga town in Bohol.
He said, "they resembled almost, 99 percent."
Año said the death of Abu Rami was a big blow against the Abu Sayyaf, citing that the slain bandit was allegedly involved in several high-profile kidnapping incidents, such as those involving Canadian and German victims. He was allegedly involved in the Samal kidnapping.
"Maybe we can attribute a lot of atrocities to Abu Rami. In fact he was being eyed as one of the future leaders of ASG who can be affiliated with ISIS (Islamic State)," he added.
Año said as of
Wednesday
, the government forces have already recovered and cleared the three houses that were previously occupied by the 11 terrorist members from Indanan, Sulu before going to Bohol.
He said prior to the entry of the ASG in Bohol, the military were able to monitor the presence of the suspected terrorists and their pump boats in Sulu.
He said the military has information that the bandits would leave the province of Sulu but they had no specific information about their destination.
"We do not yet know where they will go until we received information from the citizen in Bohol about their presence," he said.
He said the Bohol governor has already advised the affected residents to return to their homes as the military has completed the clearing operation in Sitio Ilaya, Barangay Napo, Inabanga town where the firefight took place
on Tuesday
.
Año said pursuit operation has been ongoing against five other bandits who managed to escape.
The military chief said based on intelligence information, the ASG entered Bohol to abduct local or foreign tourists in the area.
He said Abu Rami wanted to replace another ASG leader Radullan Sahiron.
Meanwhile, Año identified the slain government troops as Second Lieutenant Estelito Saldua Jr., Corporal Miljune Cajaban, Sergeant John Dexter Duero and Police Officer 2 Rey Anthony Nazareno.
Despite the incident, Año assured that Bohol, a  tourist destination in the country, remains safe. (Robina Asido/DMS)