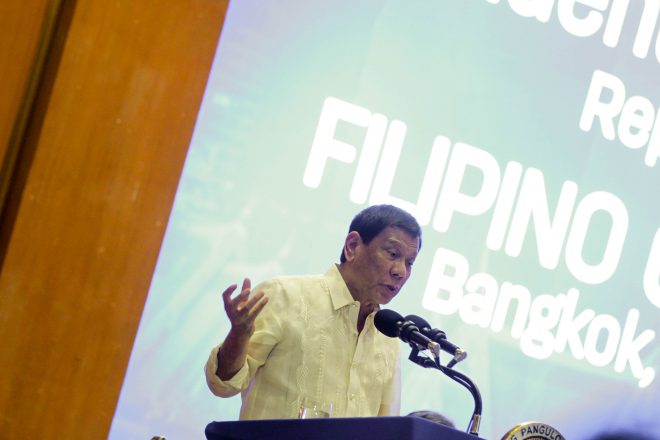 March 22, 2017
President Rodrigo Duterte accused on Wednesday night Senator Antonio Trillanes IV of extorting money from businessmen.
Duterte lashed out Trillanes, his staunch critic, in front of the Filipino community in Thailand.
When Duterte mentioned Trillanes' name, the crowd booed the senator.
"The senator as you all know, he's collecting from big businessmen," he said without elaborating on his allegation.
He recalled how Trillanes led a failed coup in a hotel in Makati City in 2007.
There was a point in the speech that in jest Duterte said he could kill Trillanes if he has time.
Trillanes has accused Duterte of amassing over P200 million in a bank account. His ally and former co-mutineer, Magdalo Representative Gary Alejano, filed the first impeachment case against Duterte.
Aside from Trillanes, detained Senator Leila de Lima also received a tongue lashing from Duterte.
He even said that when he died, he would surely go to hell, and when De Lima passed away also, she would surely go to hell also.
"I will wait for her (De Lima in hell). I will tell Senior Satan, the queen that you're waiting for has come," he said.
De Lima is now detained in Camp Crame police headquarters after she was charged by the Department of Justice for her alleged involvement in illegal drug trade inside the New Bilibid Prison when she was still the secretary of Justice during the previous administration. The senator, also a staunch critic of Duterte, denied the allegations.
Duterte said he and Justice Secretary Vitaliano Aguirre II would never fabricate evidence against anyone, including De Lima.
"I will never fabricate. I won't allow the Cabinet to do that," he said. (Celerina Monte/DMS)