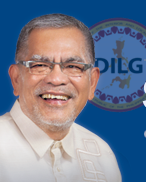 April 4, 2017
President Rodrigo Duterte has sacked Interior and Local Government Secretary Ismael D. Sueno amid allegations that he has enriched himself using his post.
In a press briefing on Tuesday, Presidential Spokesperson Ernesto Abella cited that Duterte decided to dismiss Sueno because of "loss of trust and confidence in the man and the position."
The President announced his decision during the last part of the Cabinet meeting on Monday wherein "there was a short exchange (between Duterte and Sueno) and then that was it," he said.
"But I think, more than the details of the situation, I think we need to take into more serious account the implication of this thing that it was done in a sense publicly in front of all the Cabinet members. And also that the President has allowed a public explanation of the matter," Abella said.
He said Duterte is "very serious in restoring trust in the government."
"You know, he has said this again and again. One of the problems of the Philippines is that the Filipinos have lost trust in the government. But by addressing it so firmly and so with decisiveness, it's just go to show how deeply invested the President is in nation building. I think that is of more importance," Abella said.
Sueno was axed despite being "instrumental" in convincing Duterte to run for the presidency in the May polls last year.
"The Secretary had, in fact, been instrumental in convincing the President to run for election, but this did not deter the President from pursuing his drive for a trustworthy government by addressing issues like corruption," Abella said.
Asked why Duterte lost trust and confidence with Sueno, he said, "apparently, the President has done due diligence and so he has checked into the matter and some people --- some, you know, and apparently he has taken note of several legally untenable situations."
Before Duterte dismissed Sueno, Mayor Rodrigo Roa Duterte - National Executive Coordinating Committee, a national volunteer organization that helped Duterte in his presidential bid, reportedly sent a letter to the President alleging that the DILG chief was engaged in corruption.
Sueno vehemently denied the allegation as he answered what appeared to be the content of the letter to Duterte.
He has said the hotel in South Cotabato, being alleged in the letter, was not his establishment, but belongs to his younger brother, who is a long-time businessman, while the trucks are owned by his daughter who is engaged in a trucking and rice business.
But he admitted that the  farm reported in the confidential letter belongs to him and that because of his flourishing duck business, he is now able to improve the property.
Sueno, however, called as "preposterous" the allegation that he was collecting grease money from illegal gambling rings, stressing that he had always said "no to illegal gambling since Day One" as DILG chief.
He has expressed belief that his three undersecretaries were behind the move to oust him because he clipped their powers under the new delegation of authority which he issued last week.
Abella said there was no replacement yet for Sueno as he refused to comment if former Senator and defeated vice presidential candidate Ferdinand Marcos Jr. would get the DILG post.
He also could not give assurance that a complaint would be pursued against Sueno.
"Let us wait for the President to make his subsequent actions," he said.
Duterte previously also dismissed his campaign spokesman Peter Tiu Lavina as administrator of the National Irrigation Administration after he was accused of corruption in the agency. (Celerina Monte/DMS)