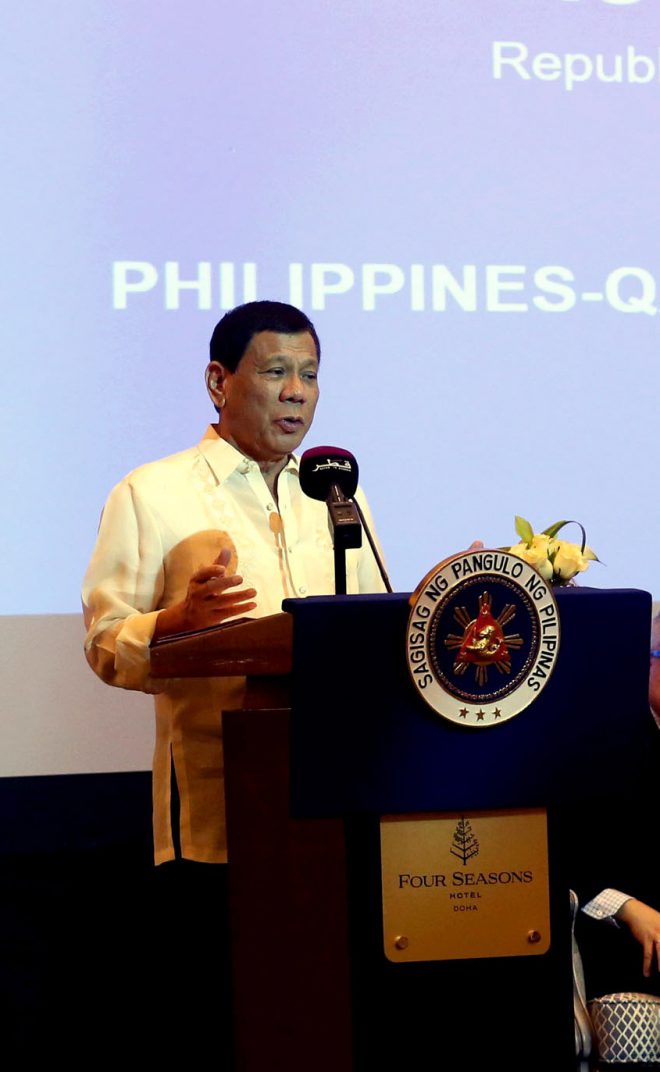 April 16, 2017
President Rodrigo Duterte has offered military assistance to the Middle Eastern countries if the need arises to protect also the interest of the millions of Filipinos working there.
In a speech during the Philippine-Qatar Business Forum  on April 15 in Doha, Duterte said he could deploy some members of the Armed Forces of the Philippines to Saudi Arabia, Bahrain or Qatar, in case anyone of them would be under attack.
"That is why it is of our national interest to see to it that you are stable, that there is no trouble bugging you and we will stand by you. That's what I committed in the Kingdom of Saudi Arabia and Bahrain. It's because of the lives of so many people there," he said.
"I said I am even willing, if you are in trouble, if you are short of manpower, I have a very disciplined military and I can send them here," he said.
"You will not have any trouble with them. They are law abiding, well-disciplined and they can stay here, just to send them to the borders," Duterte said.
But he added that Qatar has to feed the Filipino soldiers because the Philippines has no money to spend for them.
"But give them shelters and they will fight for you. I said we will stand by you. If there's a need, then we'll do it," he said, citing that he did not need the permission of the Untied States because "I am independent of them."
"And I will only protect where our interest lies. There are millions of Filipinos here," he stressed.
The Philippines has been sending peacekeepers abroad, but under the supervision of the United Nations.
The Middle East is the major destination of overseas Filipino workers. According to the Department of Foreign Affairs, there are about 760,000 Filipinos in Saudi Arabia, 60,000 in Bahrain, and 250,000 in Qatar.
Prior to Qatar, Duterte also embarked on state visits to Saudi and Bahrain.
In the same speech, Duterte urged the foreign businessmen to come to the Philippines and assured them that his administration would honor any contract.
He said he would not repeat what had happened in the past when there were contracts that were rescinded.
'Philippines has always been known to not to honor contract, no, no, no, this time. It's because many people would like to get hold of the contract and if the commission is not big enough for distribution, they would suspend the contract and everything. Nothing of the sort," he said, adding that the Philippine Constitution itself provides that there shall be no impairment of the obligation of contracts. (Celerina Monte/DMS)