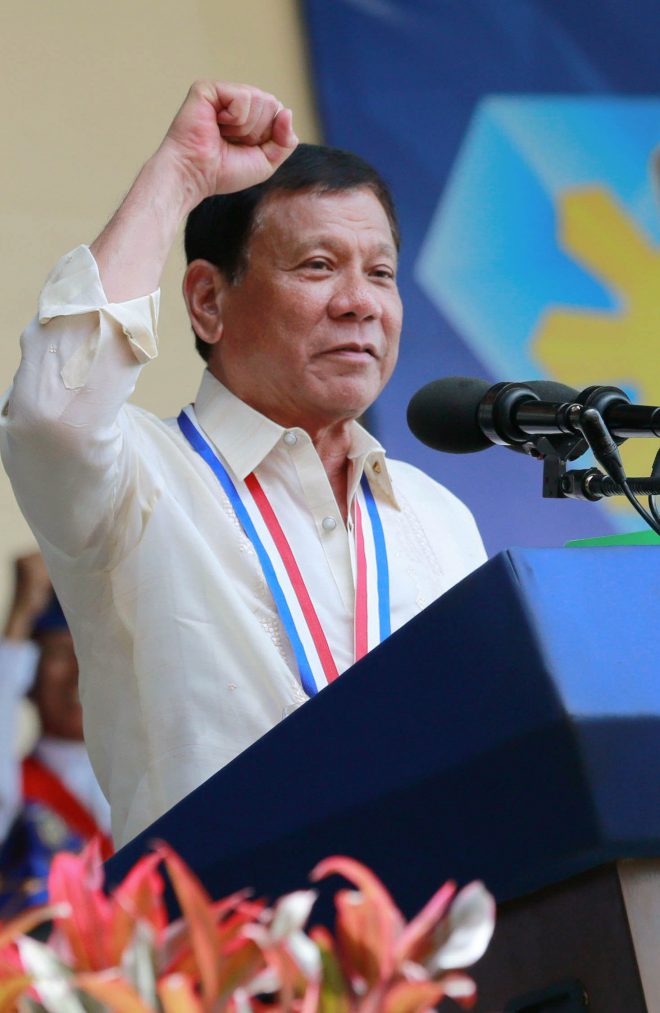 April 9, 2017
President Rodrigo Duterte on Sunday said the Philippines and Japan are new allies for peace, development and the rule of law in the region.
In a speech during the 75th commemoration of the Day of Valor and Veteran's week in Pilar, Bataan, Duterte said the renewed relationship between the Philippines and Japan came from a meaningful history emerging from "benighted period into a bright era of an expanding space for an unprecedented partnership."
"In these modern times, Japan and the Philippines are new allies for peace, development and the rule of law in the region," Duterte said.
Both the Philippines and Japan have been engaged in territorial disputes with China over the South China Sea and East China Sea.
Manila and Tokyo have been espousing for rule of law in the disputed waters amid Beijing's reclamation and building of structures in the area.
"No matter the spoils, war is never worth it. The reasons of aggression against the occupation of nations should not be countenanced. 
This is why the Philippines continues to articulate our principled position that disputes should be settled in a peaceful manner," Duterte said.
"This is a responsibility of all States – great or small, strong or weak. As responsible members of the international community, this is our sacred duty. 
This is also why the Philippines is the strongest advocate for the positive transformation of relations," he added.
Meanwhile, Japanese Ambassador Kazuhide Ishikawa, in his speech during the same occasion, said the relationship between the two countries is now flourishing and they have become strengthened strategic foreign partners.
"This partnership has expanded beyond trade, investment, economic, and humanitarian to also include security and defense cooperation and wider cultural, people to people exchanges," Ishikawa said.
The envoy again expressed Japan's apologies and deep remorse for all those who suffered during the war.
"Allow me to bow my head  once again with profound grief, and sincere condolences for the souls of all  who perished here," he said.
He also reiterated Prime Minister Shinzo Abe's statement that there would never be a repeat of the devastation of war.
"We  will continue to contribute to all peace and prosperity while making every effort to bring about a world in which all people can live in a way that is rich in spirit," he added.
The United States, an ally of the Philippines during the war, was represented by Charge d'affaires Michael Klecheski in the event.
He hoped that the commemoration of the Day of Valor would not only be a day of memory but also an opportunity for reflection and commitment to peace. (Ella Dionisio/DMS)