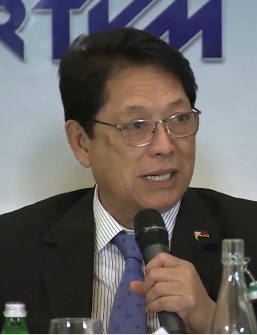 April 16, 2017
President Rodrigo Duterte is expected to welcome at the Ninoy Aquino International Airport early
Monday
over 150 overseas Filipino workers who were granted amnesty in Saudi Arabia, officials said
on Sunday
.
Presidential Spokesperson Ernesto Abella said in a joint press conference in Qatar, the last leg of the President's three-nation Middle Eastern trip, the OFWs were among those "overstaying and undocumented" who were allowed to be repatriated following Duterte's state visit to Saudi on April 10 to 12.
Labor Secretary Silvestre Bello III said the 150 OFWs will arrive at
3:30am
at NAIA Terminal 1 in time for the arrival of the President from Doha.
Initially, Duterte was scheduled to arrive at the Davao airport from his weeklong visit in Middle East. But the schedule was apparently changed so that he could personally welcome the repatriated OFWs.
Bello, in the same press conference prior to Duterte's bilateral meeting with Emir Sheikh Hamad bin Khalifa Al Thani of Qatar, said he was able to secure the commitment of his counterpart in Qatar of considering the repatriation of about 86 OFWs now staying in a shelter after running away from their employers who maltreated them or who were victims of illegal recruitment.
"So, we're now trying to secure their exit permits. So hopefully we can repatriate these OFWs within a month or two," he said.
He also said that during Duterte's bilateral meeting with the Qatar leader, the President would seek amnesty for the three Filipinos who were convicted of espionage and economic sabotage.
One of them used to work in a state-owned company, while the two others were technicians in a military installation. They were convicted and sentenced to death after reportedly passing on the Qatari's military and economic secrets to the Philippine government.
But the Aquino administration appealed to the Qatari government to reduce the sentence, which was granted. One of them is now facing life imprisonment, while the two others, 15 years in jail.
While Duterte would seek pardon for the three of them, Bello expressed optimism that the two Filipinos with "lighter offense" could be granted the pardon.
"The pardon is more probable with the two who were convicted for lighter offense," he said as he refused to identify the three Filipinos. (Celerina Monte/DMS)