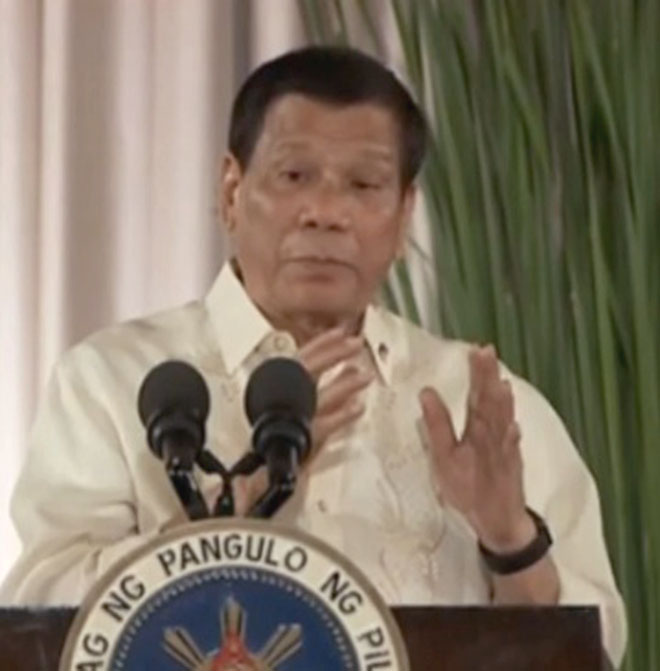 March 7, 2017
President Rodrigo Duterte urged
on Tuesday
the powerful Commission on Appointments to listen to the cause of Environment Secretary Gina Lopez, whose appointment is being strongly opposed by the mining sector.
In a speech in an agriculture event in Malacanang, Duterte said he could not ignore the "cries" of Lopez.
"I know that we get something like 70 billion (pesos) in taxes in mining. But you should also allow Gina to present her case," he said.
"And I would like to ask Congress to, they're up in the Commission on Appointments, to look into it carefully and she will show you how devastated the environment is," Duterte added, citing that as he has flown over Mindanao, he could see the destruction in the mountains.
The 25-man CA from the Senate and the House of Representatives has yet to confirm Lopez on her appointment as head of the Department of Environment and Natural Resources.
But the Chamber of Mines of the Philippines, for the first time, has come up with a position paper submitted to the CA opposing Lopez's confirmation.
Lopez has ordered the closure of 23 big mining projects and suspension of five others, as well as the cancellation of the 75 mineral production sharing agreements, because they allegedly violated the mining laws and most of them are found on the watershed areas.
Duterte said the devastation was not only caused by huge mining companies, but also the small miners.
The president warned if the problem would not be addressed, "we will really have a crisis."
He said when the soil loosens, landslides might occur. "We cannot be allowing digging...it will spell disaster," he said.
Duterte expressed hope that the government and the mining industry could strike a compromise, but "more on protecting the public interest."
"We have to, I think, come out with a set of code of whatever protocol on how to go about controlling mining," he said.
He also hoped mining companies could follow the models in Australia and Canada.
Duterte admitted many of his classmates called him up regarding the DENR's position on mining.
But he said it is not his habit of calling up his Cabinet members. If he has to say anything to his Cabinet officials, he confronts them in the Cabinet meeting, he added.
Celerina Monte/DMS