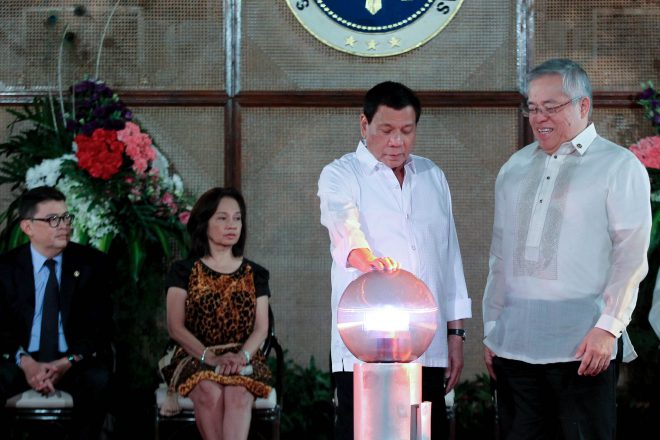 January 24, 2017
President Rodrigo Duterte vowed on Tuesday the Association of Southeast Asian Nations under the Philippines' chairmanship will work tirelessly towards greater progress and prosperity of the region.
This, as Duterte led the launching of the ASEAN 2017 Business and Investment Program in Malacanang.
"We'll work tirelessly to ensure that ASEAN's economic integration as an object and instrument of policy are fully harnessed. We will work together with ASEAN member states and partners to ensure that the trajectory of inclusive growth remains always on the upswing," Duterte said in a speech.
He stressed the need to sustain ASEAN momentum towards inclusive growth, ensure that businesses and industries continue to thrive and secure a policy environment that supports meaningful economic change and reform.
Trade Secretary Ramon Lopez, in a speech during the launching, revealed year-long plans that complement and heighten the impact of the country's strategic priorities and deliverables for the ASEAN Economic Community.
He expressed confidence in ASEAN as an economic powerhouse, citing the region is now the third largest market in the world with over 620 million people, the third largest economy in Asia, and the seventh largest economy in the world with a combined gross domestic product of $2.3 trillion.
The meetings lined up for the business and investment program include the ASEAN MSMEs-Mentors and Enablers Conference on April 28-29; ASEAN Creative Cities Forum and Exhibition Trade Exhibit on April 24-27; Taste ASEAN @Internatioanl Food Exposition on May 19-21; ASEAN Women's Business Conference on August 28; Inclusive Business Summit on September 7; 2nd ASEAN Young Entrepreneurs Carnival on September 7-9; Slingshot ASEAN on October 20; Creative Market Place on October 20-22; and ASEAN MSME Summit on November 14. (Celerina Monte/DMS)