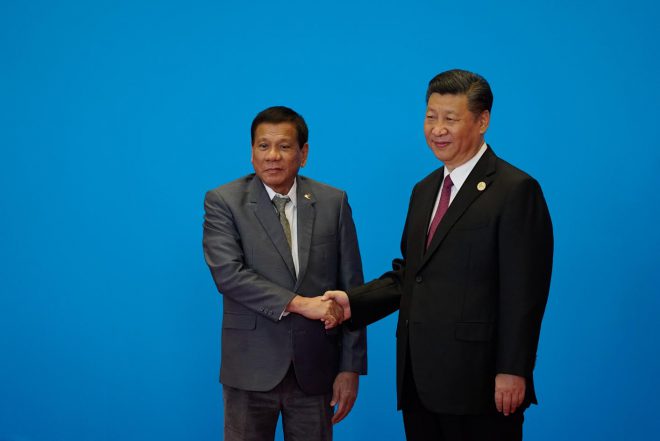 May 14, 2017
The Philippines has expressed hope that the China-led "One Belt One Road Initiative," which President Rodrigo Duterte has been attending, could benefit the Filipinos.
The Belt and Road Forum for International cooperation officially opened on Sunday.
In a statement, the Department of Foreign Affairs said the Duterte administration was pleased to hear Chinese President Xi Jinping's affirmation that the Initiative was meant to complement other countries' respective development strategies and that it promises to pursue growth and environmental protection hand-in-hand.
"The Philippine Government is always guided by the country's national interest, and recalling President Duterte's message prior to his departure for China, we must pursue cooperation with our friends and partners on our convergent objectives and priorities. The Philippines hopes that the One Belt One Road Initiative could be one of the international cooperation initiatives that will contribute to our shared benefit," the DFA said.
For the Philippines, connectivity projects should complement and support Philippine development priorities, the Philippine Development Plan, the President's 10-point socioeconomic agenda, and the ASEAN Master Plan on Connectivity, it said.
"The Philippines was pleased to hear that the Belt and Road Initiative is meant to help developing countries create more opportunities for growth and uplift the lives of people, which is also the thrust of the Duterte administration," it said.
The DFA congratulated the Chinese government for the "bold and fresh undertaking," as it wished the success of the forum.
Duterte is scheduled to make interventions at the Leaders' Roundtable Discussions and to hold separate bilateral meetings with Xi and Chinese Premiere Li Keqiang on Monday.
On Sunday, the President held a bilateral meeting with Mongolian Prime Minister Jargatulygn Erdenebat at the sidelines of the Belt and Road Forum. He also met with the executives of some Chinese companies. Celerina Monte/DMS