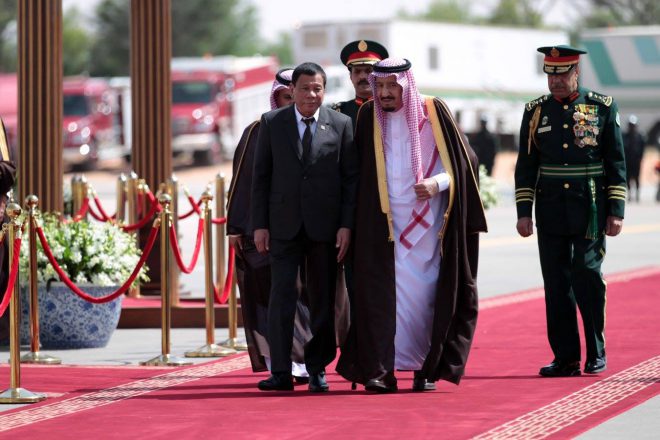 April 12, 2017
The Philippines and Saudi Arabia have signed several agreements during President Rodrigo Duterte's state visit to the Middle Eastern country.
Manila was also expecting $470 million fresh investments from Saudi-based businessmen who are planning to tie up with Filipino counterparts, said Trade Secretary Ramon Lopez in a press conference in Riyadh on Wednesday.
Among the signed agreements, which Duterte and King Salman Abdulaziz Al Saud witnessed during the ceremony in the latter's private residence on Tuesday, include  consultations between Saudi's Ministry of Foreign Affairs and the Philippine Department of Foreign Affairs, and a labor cooperation for general workers recruitment and employment between the Ministry of Labor and Social Development and the Department of Labor and Employment.
Prior to the signing ceremony, Duterte and King Salman held a bilateral talk.
The Philippine leader thanked King Salman for hosting the Filipino workers in Saudi, a Malacanang statement said.
The Saudi king, in turn, thanked Duterte for the Philippines' contribution in providing professionals and other skilled workers in the Kingdom.
According to government, Saudi is the top destination of Filipino workers.
The Palace statement said that following tradition, Duterte and the members of his Cabinet who accompanied him in the meeting, were offered Arabic coffee.
Meanwhile, Lopez told reporters that Duterte was set to attend a business forum on Wednesday night (Manila time) where he would witness the signing of seven business agreements, letter of intent or memorandum of understanding between the Arabian and Filipino companies.
He said the estimated amount of business deals could amount to $470 million dollars and these could create 16,000 jobs among the Filipinos.
The agreements to be signed would cover halal production, agri-processing, engineering and project management, tourism, ecozone and restaurants, among others.
Some 40 businessmen have accompanied Duterte in his trip to Saudi, the first leg of his weeklong state visits to three Middle Eastern countries.
Labor Secretary Silvestre Bello III, in the same press conference, said the Saudi government has granted the request of the Philippines to send home some 160 runaway overseas Filipino workers and some 250 undocumented workers who were granted amnesty.
After meeting with the Filipino community in Saudi following his attendance to the business forum, Duterte and the members of his delegation would fly to Bahrain for a state visit also. Qatar will be the last leg of his trip before returning to Manila early next week. (Celerina Monte/DMS)