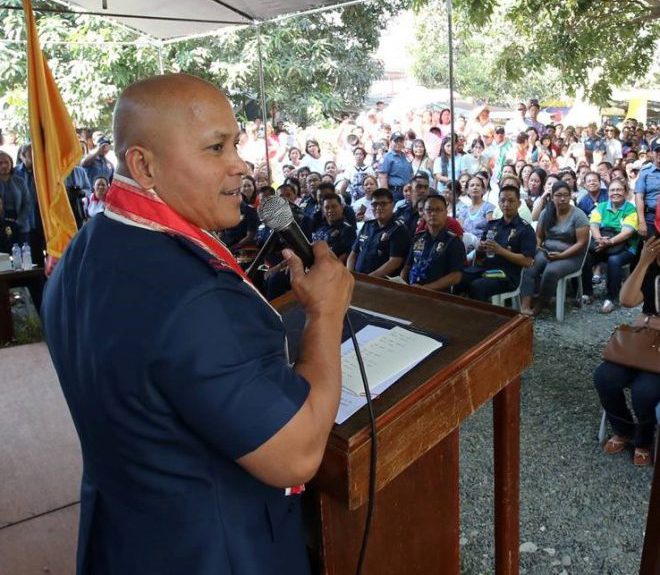 March 6, 2017
The Philippine National Police (PNP) resume its anti-illegal drug campaign which was halted by President Rodrigo Duterte late January after a South Korean businessman was kidnapped and killed under the guise of this drive.
The PNP launched its Drug Enforcement Group (DEG)
on Monday
, with Director General Ronald Dela Rosa citing reports from the Philippine Drug Enforcement Agency "there has been a hike in drug activities during the period when we suspended our anti-drug operations, particularly against, street and middle level drug traffickers, and high-value targets."
 .
"The war on drugs is on, and this time it is going to be more extensive, aggressive and well-coordinated, with built-in systems that guarantee full accountability and instil internal discipline among all personnel", Dela Rosa said.
Senior Superintendent Dionardo Carlos, PNP spokesman, said the new unit is "a national operational support unit with the mission and function to be the lead unit in police anti-drug operations."
It will be headed by its acting director, Senior Superintendent Graciano Mijares while other positions of the group are to be filled up, Carlos added.
Dela Rosa encouraged drug dependents not to be afraid as police aim to save lives. The earlier anti-illegal drug campaign triggered controversy as at least 6,000 were reported killed from
June 30
to
January 30
, when Duterte halted it.
"They should not be afraid this is the right time for them to surface or resurface because our aim here is bloodless campaign if possible. But this is war so maybe it will be less bloody, as long as no one will fight, no blood will flow," he said in an interview with reporters in Camp Aguinaldo.
"We are here to save lives we are not here to claim lives so don't be afraid on our campaign, to drug addicts, pushers there it is your chance to have a new life under Oplan Tokhang Part 2, you should grab this chance," he added.
Aside from authorized police personnel and barangay officials, all anti-illegal drug operations should be well-coordinated with the local church in the area to serve as a representative in behalf of the religious sector.
"I have directed all my subordinate commander, the regional directors, provincial directors, city directors and, chief of police's to have their respective coordinator at their own level, for them to go to the counterpart members of church," he said.
"If you say the community is multi faith, not only the catholic it includes Muslim, Protestant all of religious sects or congregations were considered here, if the parish priest is not available, the pastor of Protestant or the imam of the Muslim community can come, anyone as long as they have church involvement," he added.
Carlos said the PNP is thoroughly screening personnel for the new anti-illegal drugs group.
"The organization of the PNP DEG derives mandate from NAPOLCOM ( National Police Commission) Resolution No. 2015-547 passed on October 30, 2015 creating the PNP AIDG, which remains in effect to this date sans the passage of a NAPOLCOM resolution for its official deactivation," Carlos added.
Carlos said the 18 Regional Drug Enforcement Units (RDEU) and five District Drug Enforcement Units (DDEU) in the National Capital Region police districts shall be created while Drug Enforcement Teams (DET) will be organized in the provincial, city and municipal police offices and stations.
He also noted that the "DEG will have a built-in Counter-Intelligence Section embedded in its intelligence division to provide a fully-functional internal disciplinary mechanism against possible irregularities, lapses and abuses."
"It shall have its own Special Weapons and Tactics (SWAT) and K-9 Units for tactical support including provisions for creation of additional operating units and upgrading of personnel strength," he said. Robina Asido/DMS