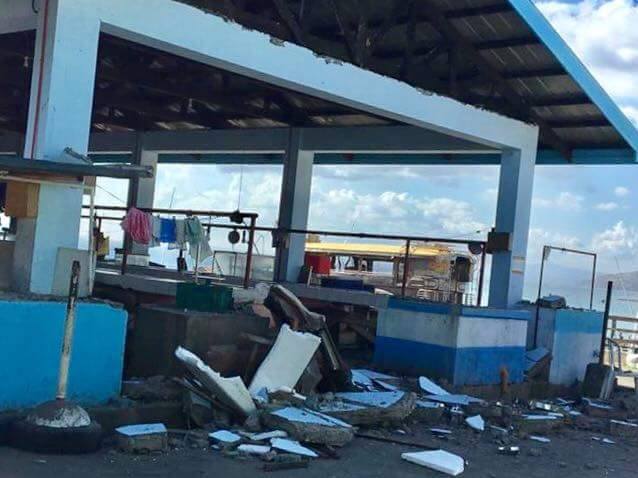 April 9, 2017
The local government of Mabini, Batangas declared on Sunday a state of calamity after subsequent strong earthquakes struck the place destroying at least P80-million worth of infrastructure.
The declaration was contained in Resolution No. 179-2017, which was adopted by the Sangguniang Bayan of Mabini after their special session on Sunday morning.
Mabini Mayor Noel Luistro, in a phone interview with Manila Shimbun, said that they placed the town under the state of calamity so that they could tap fund from the national government for the repairs of the damaged structures.
The Resolution noted the "heavy damage" to Mabini brought by magnitude 5.9 and 6.0 earthquakes on April 8.
Luistro said some 150 houses were destroyed totally or partially.
The quakes also created cracks in some barangay halls, roads, and public schools, among others.
The mayor said that most of the 2,000 residents who decided to stay in open fields on Saturday night have gone home.
"If there will be no more aftershocks, may be all those who preferred to stay outside will return home tonight," he added.
Aftershocks were still being felt in Mabini as of Sunday afternoon.
Meanwhile, Catalino Arago, Tourism officer in Mabini, raised concern that the tremors might affect the tourist arrivals in the town, which is famous for its Anilao diving site.
Thousands of tourists usually visit Anilao, which is just about three hours from Metro Manila, during Holy Week.
In 2016, about 258,000 local and foreign tourists visited Mabini, where several resorts are located.
At the same time, the Department of Social Welfare and Development said it has sent assistance to the residents of Mabini and Tingloy towns. Tingloy was also hit by a magnitude 5.5 earthquake on April 4.
DSWD Secretary Judy Taguiwalo said her office has initially provided 600 blankets, 400 bottles of water, and 30 tents to the affected families in the municipality of Mabini, Batangas; 200 blankets, 15 tents, and 100 bottled water to the affected residents in the island municipality of Tigloy; and 10,000 pieces of energy drink, 5,000 ready-to-eat arroz caldo, and 20 tents to the affected hospitals.
The relief assistance has already been delivered to DSWD Field Office Calabarzon and the Provincial Disaster Risk Reduction and Management Office of Batangas for distribution to the affected municipalities, she said in a statement.
An additional 452 boxes of ready to eat food from the National Resource Operations Office were set to be dispatched on Sunday to the residents of Mabini, she added. (Celerina Monte/DMS)