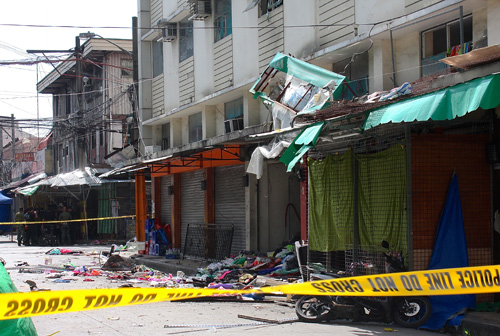 May 7, 2017
The twin explosions which rocked Quiapo, Manila on Saturday night were not terrorist attack, police said on Sunday.
In a radio interview, Manila Police District director Chief Superintendent Joel Coronel said the perpetrator was apparently targeting a certain Muslim leader.
"Based on our investigations, there is an intended or target (person) in the explosion yesterday because if it is a terror attack it (explosive) should be placed in a place that will cause a lot of damage, fear, chaos and panic to the general public," Coronel said.
He said that a package, containing an explosive, was delivered to the office of lawyer Nasser Abinal, who admitted of receiving threats in his social media sites.
"The package is addressed to his (Abinal) office. He also said that he received threats from certain person and group through Facebook and social media because of his work as Imam of the Muslim community here in the Philippines," he said.
Coronel said the police held two persons of interests who would undergo questioning.
He said the area where the explosions occurred was on "lockdown" while post-blast investigation and forensic examinations were being conducted to identify the type of explosive used, bomb signature and the suspect behind the incident.
Meanwhile, Senior Superintendent Arnold Santos, MPD Explosives and Ordnance Division head, said the suspect could have used a two-way radio to detonate the package delivered by the GrabExpress driver.
"We can look into an angle where the person who is holding the control (of the explosive device) is around (the place of incident). Based on my assessment, it is possible that a command detonation was used, the easiest way to detonate (was) through two-way radio," Santos said in a separate radio interview.
Based on a CCTV footage, he said the package exploded about less than three seconds after it was received by certain Mohamad Bainga, one of the fatalities.
He said the suspect could not use a timer because of the unpredictability of the delivery service.
"He can't use a timer because it is possible that it (package) will explode while the delivery man is on his way," he explained.
Last Saturday, at around 5:55pm, an explosion happened at Nozagaray St. cor Elizondo St., Quiapo Manila, resulting to the death of two people and injury of four others.
The second blast occurred at around 8:30pm while authorities were investigating the first incident. Two police officers namely, Police Chief Inspector Eliza Arturo and Police Officer 2 Aldrin Resos, were injured in the second explosion.
Grab Philippines confirmed that one of the fatalities was its delivery man.
"We are one with authorities in pursuing justice for those who needlessly lost their lives and were hurt," Grab said in a statement.
"We pledge our full support and cooperation in the conduct of their investigation," it added. (Ella Dionisio/DMS)