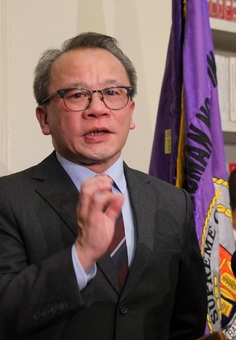 July 4, 2017
The Supreme Court, voting 11-3-1, dismissed the three petitions questioning President Rodrigo Duterte's declaration of Martial Law in Mindanao on Tuesday.
The petitions were filed by the House of Representatives minority bloc, residents of Mindanao and women from Marawi.
Malacanang welcomed the decision of the Supreme Court.
"The High Court has spoken: Proclamation 216 is constitutional," said Presidential Spokesperson Ernesto Abella in a statement.
"With the Supreme Court decision, the whole government now stands together as one against a common enemy," Abella said.
He stressed Duterte was sworn to office to protect the Filipino people.
"He will not waver in this commitment to end rebellion, the evil of terrorism and to liberate Marawi," he said.
Duterte declared martial law on
May 23
while he was in Russia after the Islamic State-inspired Maute Terror Group attacked and started occupying the city. His basis for imposing martial rule, which would take place for 60 days, was the rebellion and invasion in Marawi.
Abella urged the public to give its full support and cooperation to the local authorities.
"After all, securing communities is a responsibility that must be shared by everyone," he said. (Celerina Monte/DMS)