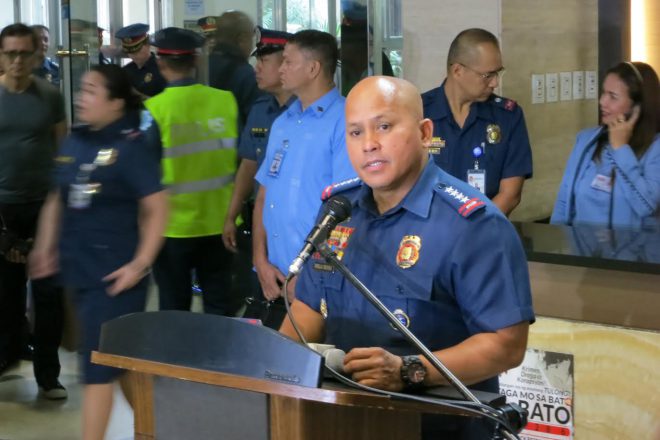 January 24, 2017
A police station commander in AngelesCity was relieved while seven policemen were placed under restrictive custody because of alleged involvement in robbery and extortion of three Korean nationals last December in the province ofPampanga.
"The seven policemen were under restrictive custody… the station commander of police station 5 of AngelesCity police office was already relieved," Philippine National Police (PNP) Director General Ronald Dela Rosa told reporters inCamp Crame on Tuesday.
Chief Superintendent Aaron Aquino,Central Luzon regional police director, said the seven are: Police Officer 3 Arnold Nagayo, Police Officer 3 Roentjen Domingo, Police Officer 3 Gomerson Evangelista, Police Officer 2 Ruben Rodriguez, Police Officer 2 Richard King Agapito, Police Officer 1 Jayson Ibe and Police Officer 1 Mark Joseph Pineda. They were all from Angeles City Police Station 5.
Also relieved from their post because of command responsibility are station commander Chief Inspector Wendell Arenas and deputy station commander Senior Inspector Rolando Yutuc, Aquino said in a text message.
Arenas was replaced by Chief Insp. Rolando Doroja.
They were relieved from their posts over the alleged robbery extortion which happened  around 6:30 p.m. on Dec. 30 atFriendship Plaza.
"We will file appropriate charges against them," Aquino told ANC.
Dela Rosa said the suspects robbed "things" inside the house of the Korean victims after they accuse them of "illegal online gaming."
"There were Koreans who just went here to play golf, and then their house was being raided for illegal online gaming accusation. After they failed to get evidence, they took the things of the Koreans. The three were brought to the station and they were asked to pay 200,000 pesos," he said.
Victims Park Min  Hoon and Lee Ki Hoon executed affidavits detailing their ordeal. The other victim refused to do so, fearing his safety.
They identified the suspects through photos given by investigators on Jan. 4.
"We will use their affidavit for the administrative case so that these policemen will be  dismissed," he said. Robina Asido/ DMS